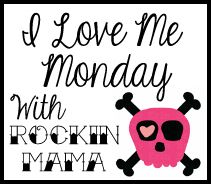 This was taken a week ago after a wedding reception that Big Daddy and I went to. Lighting is bad and I hate that you can't see my makeup...blame dancing.
Now onto the questions...
1.

Do you enjoy wearing dresses?
I actually do! I wish I owned more of them.
2. What's your favorite thing about fall?

If I say football that would be so cliche but seriously...yes football because my mini barbarians will be playing this year. Oh and rugby for Big Daddy starts in the fall too. Oh and my wedding anniversary ;-)
3. Favorite sex position?

Definitely from the back, doggy style :-D But not "in" the butt...ouch.
Alrighty then. That last one...
SUPER T.M.I. I know LOL!!
But hey, y'all wanted to know more about me right? LOL Link up with
Rockin' Mama
...NOW.