In an effort to expose myself to y'all, so you can get to know the real me, here it is...this week's 5QF. Brought to you by none other than Mama M.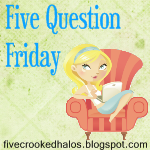 1.
If you could go back to college would you change your major? Or, if you were to go to college right now...what major would you choose?
If I was to go back to college, I would definitely go into medicine and become a surgeon. I always wanted to be a surgeon.
2. What do you love most about your home?
Probably that its not mine. We are renting a duplex right now and don't have to worry about fixing anything when it malfunctions. Don't have to worry about over grown trees or bushes. Or even worry about the grass and spraying for bugs. LOVE THAT!!! :)
Oh and that the monsters' room is on the other side of the house from me and big daddy's room.
And all of our new furniture.
3. What types of books do you like to read (if you like to read at all)?
I love beach blanket books...like Lipstick Jungle, and 5th Avenue. Oh and I love me some "hood" books.
I also like biography type books about athletes and musicians and "real" books like Fahrenheit 51, and Nectar in a Sieve.
4. What is the grossest thing you've ever eaten?
Be careful you may throw up in your mouths a little bit: Nato (nah-toe) aka fermented soy beans. Oh and gravy bleh. If you're wondering why gravy...just ask. Or check out a previous post where I answer questions about me :)
5. If you HAD to be a character on a TV show, whom would you be?
I would be Teresa Giudice! muah muah muah! 'Nuff said.