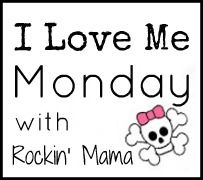 There is no better way to start off the week than with positive affirmations. I LOVE ME! Yes I do. You know you love YOU too, so come link up with Rockin Mama.
1. What do people compliment you on the most?
My smile. Well my hair. Ya my hair.
2. Your greatest accomplishment?
Duh, being a mom! LOL. But besides the obvious, I really would say being a wife. In the 7 years Big Daddy and I have been married, we've had friends get married, get divorced, and then get married to other people. I am lucky.
3. Do you consider yourself to have an old or young soul?
I was a young mom...I was going to be young forever! But I believe my soul is old...one that had definitely lived and learned the hard way.

Your turn! Link up and come back here and leave your link so I can love on you too ;-)