I can't believe I forgot to link up yesterday for I love me Monday!! Meh. With all the new followers I've gained...
*HEY NEW FOLLOWERS*
...I'm just gonna do it now...
*Like I said...oldie...taken last month. I had straightened my hair and was really feeling all purty and stuff. I wish my hair didn't cover half my face though*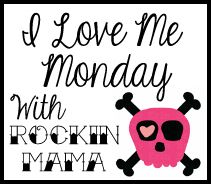 *but really its Tuesday...*
1.

What is one thing you always seem to forget and want to punch yourself for it? My stupid grocery list! I take the time to do it (like 30-40 min) and I pretty much ALWAYS leave it at home. GRRRRRR.
2. If you could spend 15 minutes with any person of your past, present, living or deceased who would you choose? Definitely my grandparents. They still live in Hawaii. The last time I saw them was back in 2006 when Big Daddy and I did our traditional Hawaiian marriage ceremony. (Long story short my grandparents raised me and my sister)
3. What's your favorite way to wake up? Um so ya I'm going THERE...its all about the nooky! HA!!!
I promise to not forget next week. You are the best hooker a girl could ever ask for! Love you!