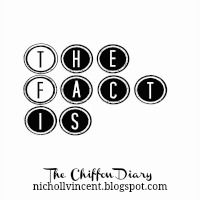 Fact is: I didn't over indulge this Thanksgiving weekend but did indulge with pumpkin crisp last night before bed, pumpkin crisp for breakfast this morning, and more pumpkin crisp for lunch too.
Fact is: I HATE the cold..hate is a strong word but yes, I HATE the cold. My island blood runs strong through my body and I am sitting here in shorts and a tank top wishing it was hot and sunny out again.
Fact is: I don't like Christmas songs. I do have TONS of Christmas spirit just not in the song form.
Fact is: I sometimes make my 4 year old son sit in front of me to watch a movie just so I can play with his hair. I can not confirm or deny that I may have put a bow in his hair just to see what my daughter would look like should I suddenly become the virgin Mary and get pregnant.
Fact is: I love black Friday. I used to work in retail and as much as people hated it, I rather enjoyed it. Now as just a consumer, I enjoy it even more. I am a total people starer watcher.
Fact is: I know my 4 year old is a night owl if he takes a nap during the day, but today...I just don't feel good. He has been sleeping on the couch now for almost an hour.
Fact is:
THIS is super fun LOL. Check out Nicholl over at
Chiffon Diary
every Tuesday.