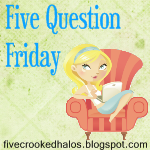 So this is my first time playing...YAY! (*in my UFC ref voice*) Let's get it on! Here are the 5 questions for today (with my answers)...
1. Do you have an iPhone and, if so, how do you get apps and what are your favorites?
Don't have an iPhone (though I wish I did). I do have a Blackberry Storm. I have TONS of apps: UberTwitter, facebook, bb messenger, weather eye, skype, myspace, bankof america, flickr, youtube, poynt--->those are my faves. :)
2. What is your fondest memory of K-3rd grade?
School plays, choir, and CHEERLEADING!!!
3. What makes you cringe at the thought of touching?
Ok...so y'all are gonna think I'm uber crazy! But gravy. EEEEWWWWW. I just get goosebumps thinking about it. I will not touch it. Ever. I don't even make it. I'll eat it...with other food of course not by itself. Oh and it has to be white gravy if I eat it. Brown gravy, yuck!
And like Mama M, vomit. I mean, no one likes touching vomit though right?
4. If you could have any celebrity show up on your doorstep who would it be and why?
2 words: VIN DIESEL. That is all.
5. What would you say is your best physical feature?
So I think I have nice full lips. Not too full...just right. Oh and I love my legs. I thank cheerleading everyday for my toned legs.
So that was actually really fun. Except now I'm thinkin bout gravy....
Come play and link up with the rest of us. Cuz, you know, we all jump off a bridge together LOL.